2018 Minot Light Roundabout
September 23, 2018 @ 7:30 am

-

2:00 pm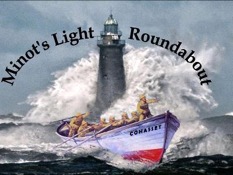 2018 Minot Light Roundabout
9/23/18 – 9/23/18
7:30 AM – 2:00 PM
Sunday September 23rd 2018
7:30 am – 9 am Registration & Check In opens at Sandy Beach
9:15 am  Captains Meeting – All Participants
10 am  Race. Staggered Start by Boat Class
11 am  Lunch, Concert and awards
Race Description
The Minot Light Roundabout is a 4 1/2 mile open water rowing event open to all sea-worthy, oar-powered craft. Participants will row in the open ocean waters to Minot Light, and conditions can vary significantly. The water can be rough, with strong winds and waves. There will be chase boats on the course to monitor checkpoints, but we do not provide boat escorts — you should expect to be out of their sight and fully independent during the race. There is no rain date. In the case of adverse weather conditions or fog we may use an alternate course, shorten the course for selected boat classes or cancel the race.  New for 2018: A new course to the light just to the east of the 2012-16 course.  An updated race course chart with distances and compass bearings is coming soon.
In addition to oar-powered boats, paddled boats including kayaks, surfskis, and canoes are invited. (Sorry, no Paddleboards).
LUNCH on the beach, Concert, Awards and T-Shirts.
Safety
Participants. Each participant must carry or wear a
USCG-approved PFD (life jacket), an attention-getting noisemaker, such as a whistle on a lanyard or a horn.  Crews rowing single and double Aldens, kayaks, surfskis, canoes and similar boats must wear life jackets.
Each boat must have:
– A bailer tethered with sufficient line to not interfere with bailing (if the boat is not self bailing.)
– Highly recommended to have a compass mounted and crew that knows how to use it; must be familiar with race course and compass bearings in case of fog
– Highly recommended to have a handheld radio in case of fog.
Facilities
Rest rooms and water are available in the Sandy Beach bathhouse.  There is ample parking at Sandy Beach.
Information Required for Registration:
Boat
You will need the name and class of your boat plus the boat manufacturer and model.
Crew
You will need the names of all participants in your boat. All rowers and coxwains are considered participants.  For each participant, you will need:  Name, Address, email, race day phone, age on race day, and T-shirt size (pre-shrunk cotton).
Waiver
All participants must sign a waiver form in order to race. Copies of the waiver form will be available at Sandy Beach registration.
Payment
Credit Card, PayPal and checks are acceptable for registration.  Select PayPal to pay by PayPal or Credit Card.  Visa, Mastercard, American Express and Discover are accepted by PayPal.
Fees
All rowers and coxwains are considered participants and must pay a registration fee and sign a waiver in order to race.  Fees are $45 per participant and include lunch and a hat.
Each boat requires a separate registration.
Register Now!
Boat Categories
Dory / Work Boat
Livery
Grand Banks Dory
Pilot Gig
Whaleboat
Currach
Fixed Seat
Fixed Seat with outrigger(s)
Sliding Seat
Ocean Shell
Sliding Seat Touring, Wherrie
Sliding Seat Four, Quad
FISA Coastal Rowing Solo, Double, Quad
Canoe
Sea Kayak, Fast Sea Kayak
Surfski 20 Plus, Unlimited, High Perf
Racing categories
You will be placed in the appropriate category by the race committee based on the information you provide about your boat at registration.  The CMI race committee's decision on boat categories is final.  The Race Committee can, and will, consider expanding the above boat categories.  Contact CMI prior to race if you have any questions
Race Guidelines.  
CMI reserves the right, at any time, to:
– Refuse to register any individual or boat.
– Expel or disqualify any individual or boat for lack of required equipment, unsafe operation, and disregard for event rules or unsportsmanlike behavior.
– Disqualify any individual or boat who has gained an unfair advantage, has ignored someone in distress, or caused damage to another craft.
Thank you for your participation! We are looking forward to a safe and fun race!
Location: Sandy Beach, Cohasset MA, 345 Atlantic Ave, Cohasset, MA 02025